Overview
EBM is about learning from nature. A big part of this is how nature responds to disturbances. Sometimes nature provides us with opportunities to learn about disturbances, like wildfires. Sometimes we can learn by examining our own disturbances. By taking a retrospective look at burned and logged forests, the (Fire and Harvest Residual) FAHR project explored 50 years of forest disturbance in a 4-year project. They found that initial differences between harvested and burned forests converge after about 30 years.
Background
EBM is often defined as reducing the difference between managed and unmanaged forests. If we are to emulate natural disturbances using cultural disturbances, we have to know whether they are equivalents.
The FAHR project looked at this question by finding clusters of burned, harvested and un-disturbed forests in north-central Alberta and sampling their structure, biodiversity and soil structure over a 3-year period.
FAHR compares the early successional trajectories for forest structure and biodiversity between wildfire- and harvest-origin aspen-dominated stands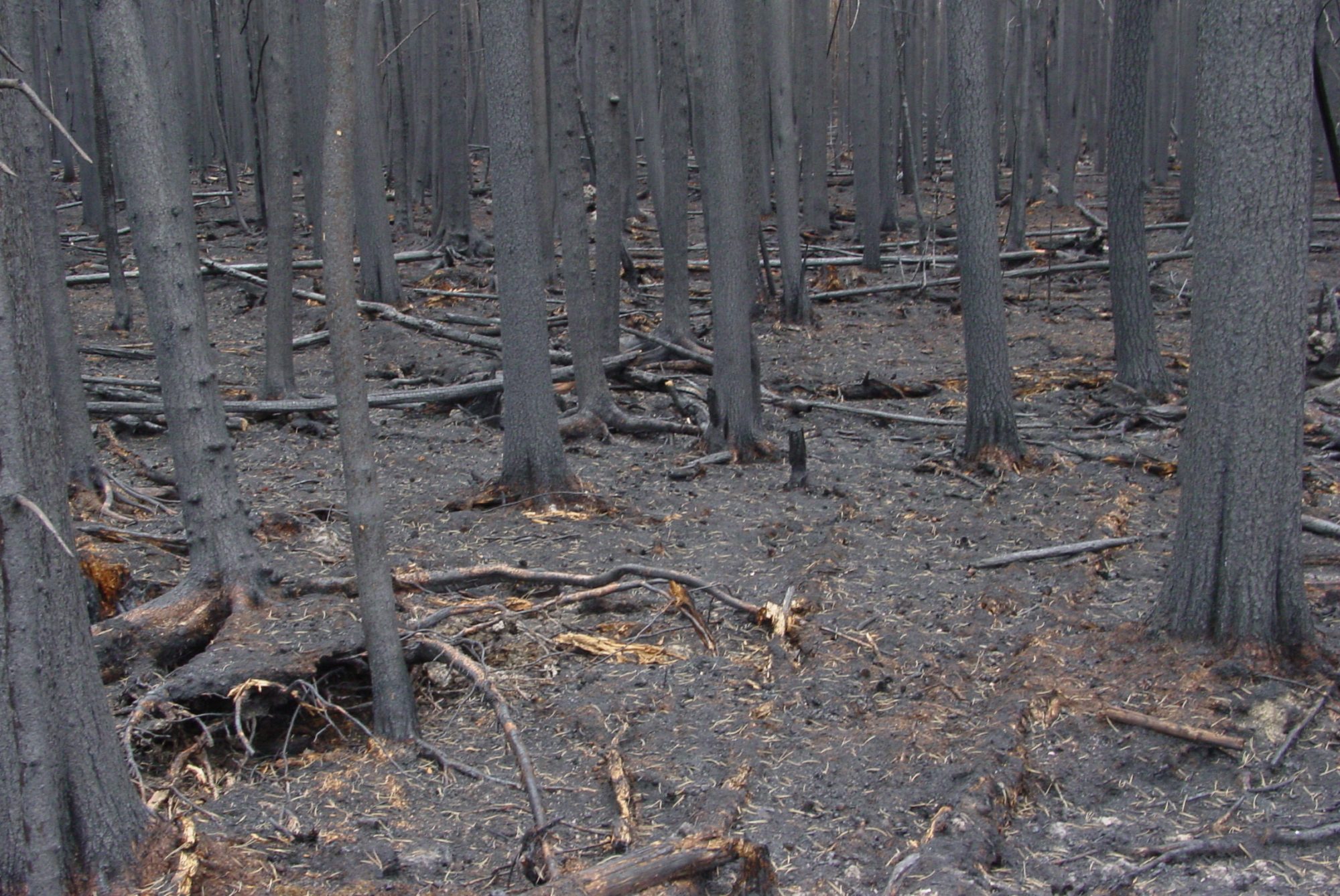 Innovation
FAHR used a scientific approach with an odd name: passive-adaptive management. Adaptive management is an often-cited, rarely-implemented process of using real-life management as a scientific experiment; learning by doing. Passive adaptive management is a version of this where we find management patterns that were created unintentionally in a landscape and fit them to an experimental design. When the forests measured in the FAHR project were disturbed, nobody thought that they would be part of this experiment. But 50 years later, they have helped us learn about EBM.
Discovery
The differences between harvested and burned mixedwood forest are generally small after 28 years of succession. At this point biodiversity is similar in both disturbances, but species abundance differs. Thirty years ago, harvesting practices led to a loss of snags, downed logs and lower soil carbon content. Modern harvest practices should, and do, leave some standing and fallen dead wood behind.  Burned forests are unique and difficult to replicate for 30 years, but after this time, a harvested forest can emulate a burned forests' patterns.
" On average, 28 years after a disturbance, biodiversity is similar between harvested and burned stands.. "
Fire and Harvest Residual (FAHR) Project
EBM Wheel
Where in the wheel?
EBM requires that careful attention be paid to a blend of coarse and fine filter management. Coarse filter management is ensuring that large scale processes, like stand-replacing disturbances, occur as they did in the past. Small scale patterns and processes will be enabled by effective coarse filter management. Fine filter management is the opposite; focusing on maintaining multiple, keystone or vulnerable ecosystem components and assuming that the larger scale components will be carried along. This study shows that, in this ecosystem, there may be a 30 year gap where coarse filter management may not provide for fine filter needs. Retention of trees at harvest may be able to fill that gap.